Tarte Tatin with Renetta apples

STEP 1

STEP 2

STEP 3
Ingredients
| | |
| --- | --- |
| N°6 | Renetta |
| 1 | puff pastry roll |
| caramel: | |
| 50g | of butter |
| 230g | of sugar |
| decoration | 1 lemon zest |
Tarte Tatin with Renetta apples
Preparation
20 minutes
40 for baking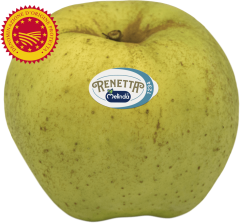 Renetta apples are the queen of baking. Their slightly acidic taste becomes sweeter with baking maintaining an ideal texture.
---
Ingredients
| | |
| --- | --- |
| N°6 | Renetta |
| 1 | puff pastry roll |
| caramel: | |
| 50g | of butter |
| 230g | of sugar |
| decoration | 1 lemon zest |
Tarte Tatin with Renetta apples
Preparation
20 minutes
40 for baking
---
STEP 1
Caramel: pour the sugar in a non-stick pan. When the sugar becomes light brown, mix in the butter. Pour the caramel in a baking pan and spread evenly.
STEP 2
Peel, core and cut in large slices the apples.
Lay the apple slices over the caramel, very close to each other. Cover with the puff pastry, sealing the borders very well.
Protect the surface with some aluminium foil and bake at 190°C for 25 minutes, then take the foil off and bake for other 10-15 minutes, until the crust is golden brown.
STEP 3
Once baking has ended, turn the pie over carefully, on a serving plate, better if with a raised border.
Decoration: decorate the cake with some lemon zest.