Traditional Apple Strudel

STEP 1

STEP 2

STEP 3

STEP 4

STEP 5

STEP 6
Ingredients
| | |
| --- | --- |
| N°5 | Renetta |
| 150 g | of flour |
| 30 g | of warm water |
| 20 g | of corn oil |
| 10 g | of grappa |
| 1 | pinch of salt |
| 1 | pinch of sugar |
| Filling: | |
| 150 g | of sugar |
| 25 g | of breadcrumbs |
| q.b. | Ground cinnamon and cloves, to taste |
| 1 | lemon zest |
| 150 g | of raisins |
| decoration: | powdered sugar |
Traditional Apple Strudel from Trentino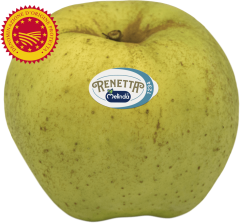 ---
Ingredients
| | |
| --- | --- |
| N°5 | Renetta |
| 150 g | of flour |
| 30 g | of warm water |
| 20 g | of corn oil |
| 10 g | of grappa |
| 1 | pinch of salt |
| 1 | pinch of sugar |
| Filling: | |
| 150 g | of sugar |
| 25 g | of breadcrumbs |
| q.b. | Ground cinnamon and cloves, to taste |
| 1 | lemon zest |
| 150 g | of raisins |
| decoration: | powdered sugar |
Traditional Apple Strudel from Trentino
---
STEP 1
Mix well the flour, salt and sugar with the liquid ingredients until soft but not sticky.
STEP 2
Cover the dough with a damp cloth. It must rest for at least 20 minutes, so to complete the glutinic net, which is what makes the dough elastic and workable.
STEP 3
Peel and slice the apples.
STEP 4
Add the sugar, the breadcrumbs and season with the ground cinnamon and cloves, raisins, the lemon zest and the apples.
Roll the dough with a rolling pin as thin as possible. Lay it over a floured cloth. Dough must not stick to the table.
STEP 5
Spread the filling over the dough.
STEP 6
Use the cloth to roll the strudel. Bake in hot oven at 180°C for approximately 50 minutes, until the top is lightly browned. Let the strudel cool down on a rack, then sprinkle with powdered sugar.