Rose cake with caramelized apples

STEP 1

STEP 2

STEP 3

STEP 4

STEP 5

STEP 6

STEP 7

STEP 8
Ingredients
| | |
| --- | --- |
| 4 | Renetta |
| 400 g | of flour |
| 100 g | of Manitoba flour |
| 100 g | of sugar |
| 25 g | fresh yeast |
| | milk |
| 2 | egg yolks |
| 60 g | of butter |
| filling: | |
| 200 g | of sugar |
| 30 g | of butter |
Preparation
40 minutes
+
45 for baking
Our rose cake with caramelized apples rewards both the eyes and the palate. The original German recipe becomes more beautiful and delicious with our Renetta apples. 
---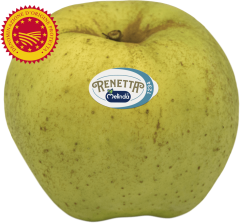 Renetta apple is the queen of baking. This slightly tart apple with a compact pulp becomes juicy and extra-sweet during baking.
---
Ingredients
| | |
| --- | --- |
| 4 | Renetta |
| 400 g | of flour |
| 100 g | of Manitoba flour |
| 100 g | of sugar |
| 25 g | fresh yeast |
| | milk |
| 2 | egg yolks |
| 60 g | of butter |
| filling: | |
| 200 g | of sugar |
| 30 g | of butter |
Preparation
40 minutes
+
45 for baking
---
STEP 1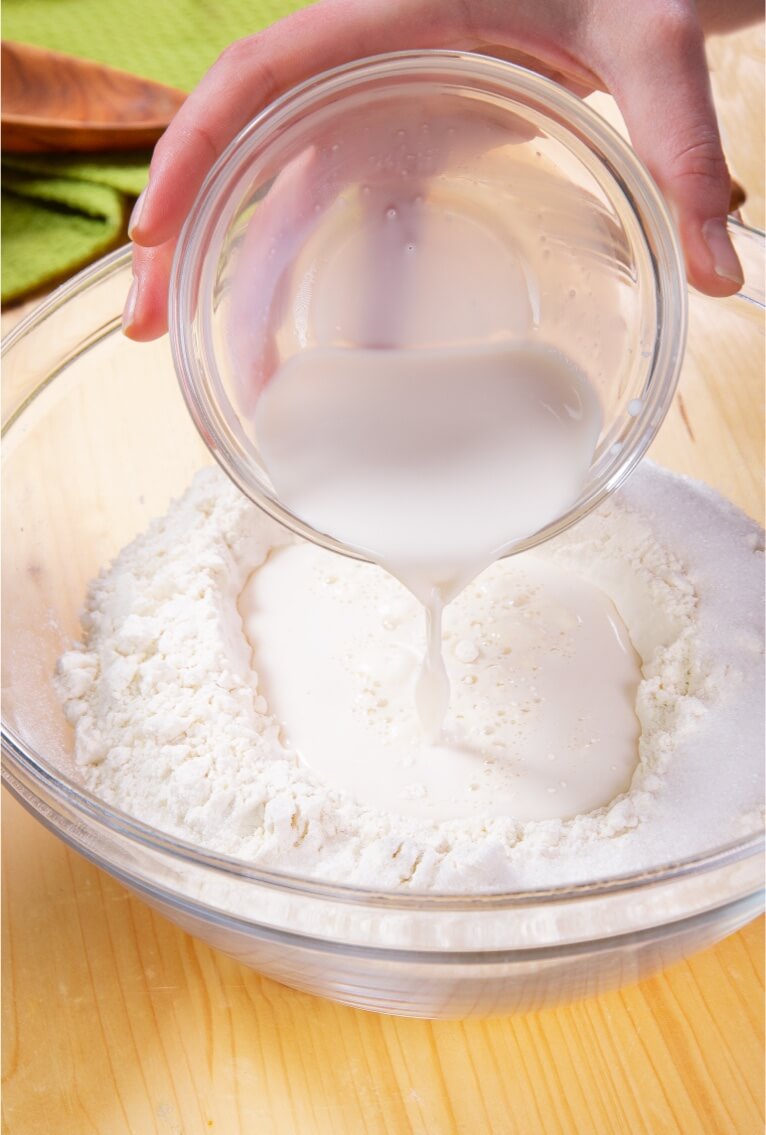 Dough: mix the two types of flour, add the sugar, then make a well in the centre 
Melt the yeast in a cup of milk (200 g) and pour it in the centre of the well, together with the two yolks.
STEP 2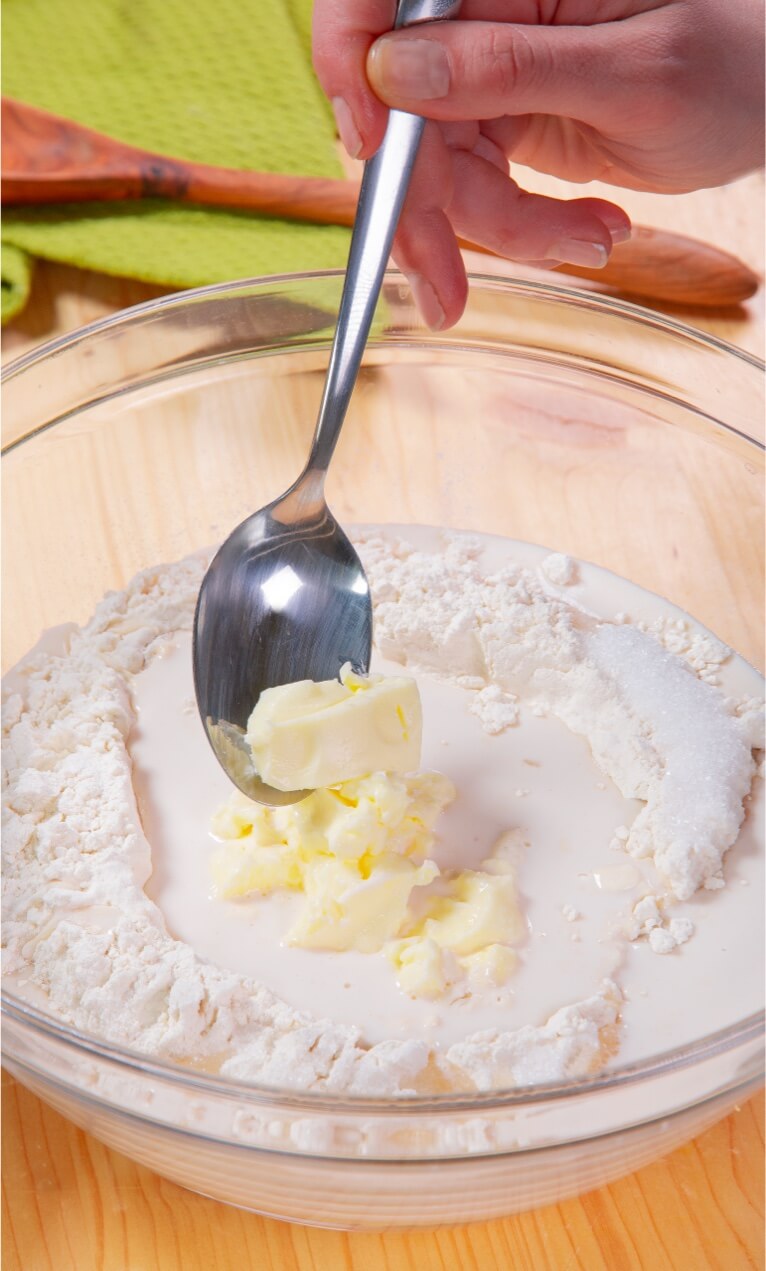 Mix in the butter, which must be very soft.
Start kneading with energy, adding the milk until you reach the consistency of a very soft and smooth dough.
STEP 3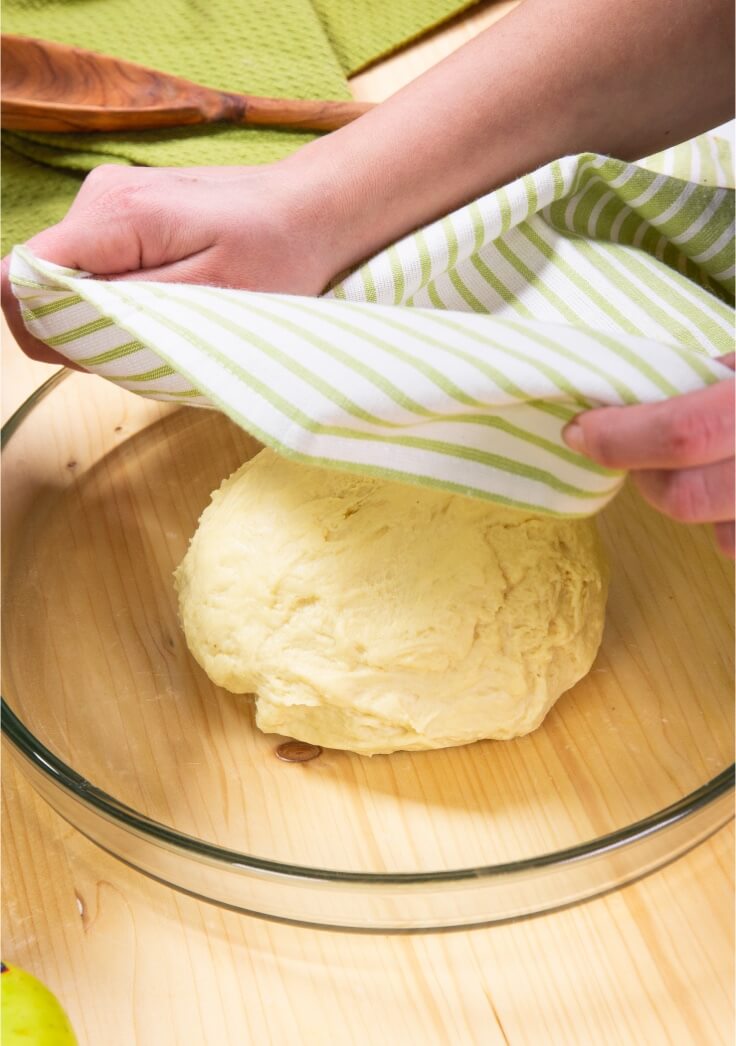 Protect the dough with a cloth, and let it rise till it doubles its volume. 
STEP 4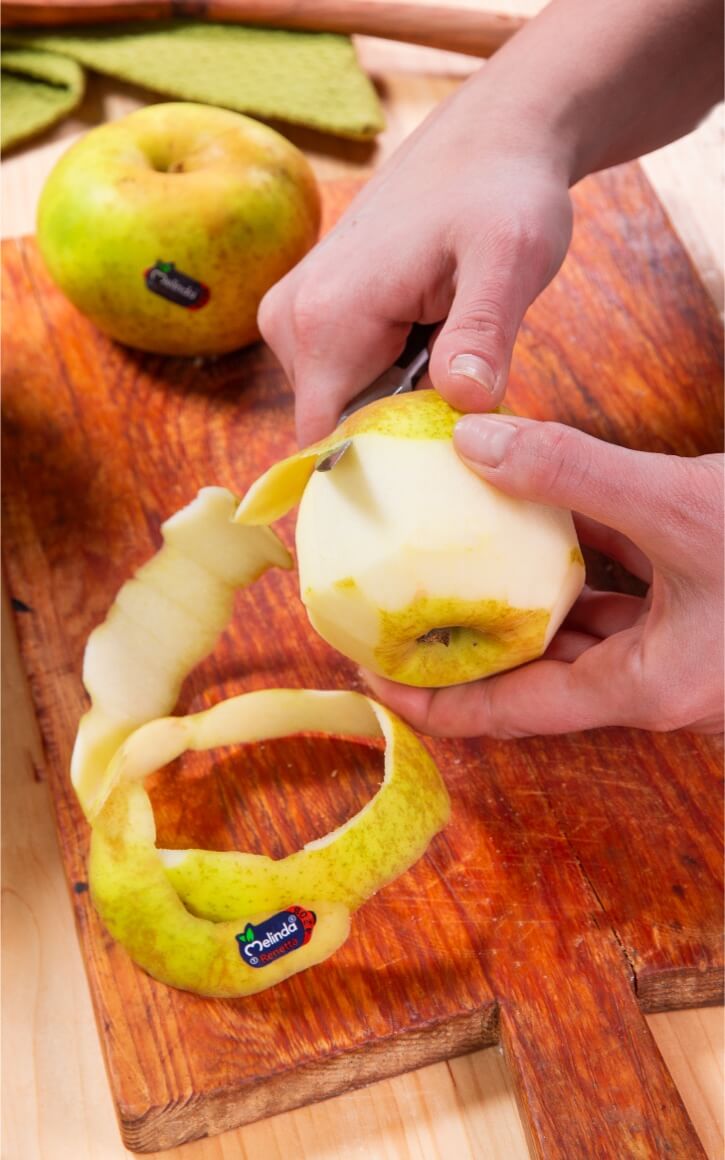 Caramelized apples: peel and slice (not too thin) the apples. 
In a large pan, melt and caramelize the sugar together with the butter, over a medium heat. 
STEP 5
When the caramel turns light brown, take away from the heat and lay in the apple slices. Cover the pan and cook for further for 10 minutes. Allow the apples to cool down inside the pan. 
STEP 6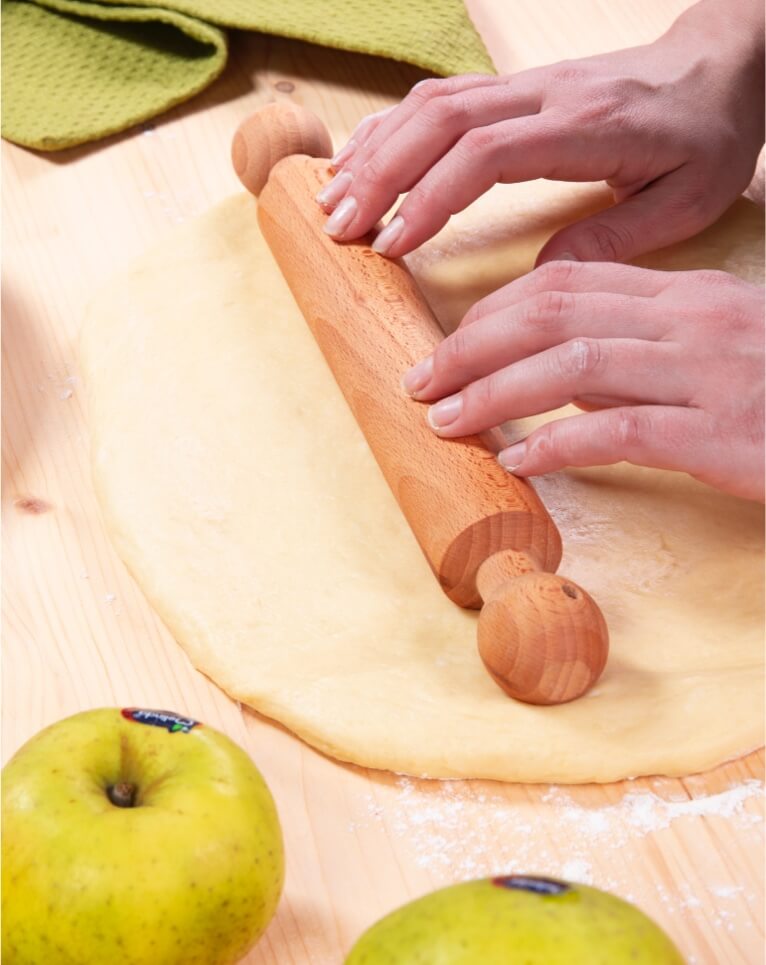 Assembly: roll out the dough into a rectangular, 5-6 mm thick. 
STEP 7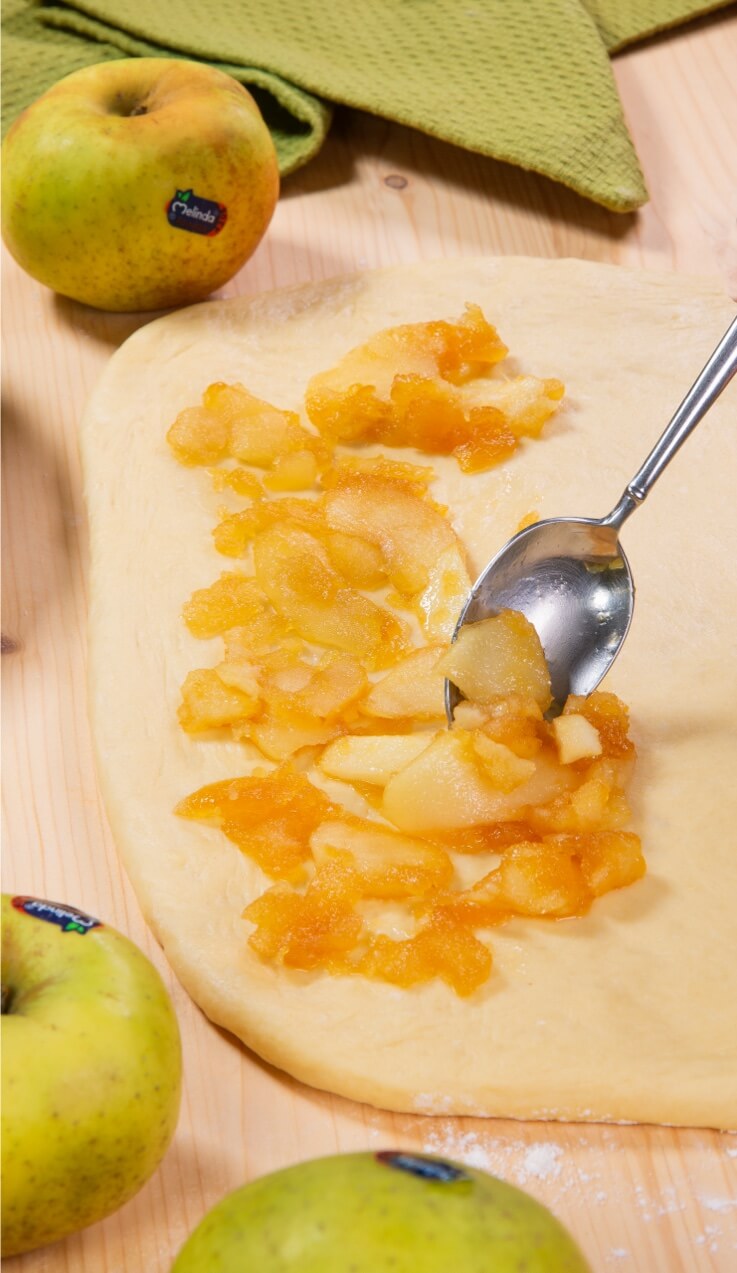 Spread the apples, previously drained from any liquid, on the dough and roll it on itself.
Cut into 4 cm slices.
STEP 8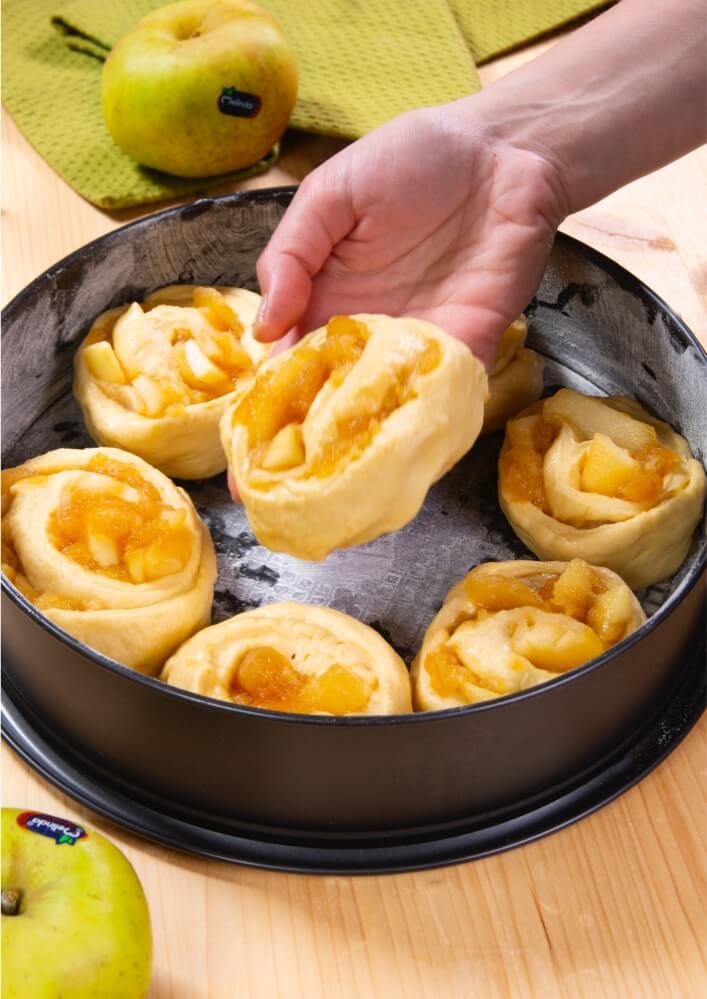 Lay them in a Ø 26 cm springform pan, previously buttered and sprinkled with flour. The slices must be well distanced so to have enough room for raising. (raising time: about 60 minutes). Bake at 170° C for 45 minutes. After 20 minutes protect the cake with aluminium foil. When done, take out from the springform and serve with the leftover caramel.